GENERAL INFORMATION
This training course is an introduction to Excel dashboarding. Your company decided to implement a dashboard in Excel, but where to start? What will you include in your dashboard? How will you structure and show your data? How will you feed your dashboard? Those are the type of questions you will be facing and those are the type of questions we will be answering.
Designing an action plan and a framework for the implementation of a new dashboard
Create advanced pivot tables, which will serve as calculation engines for dashboard graphics
Create a dashboard with graphs based on a set of data in Excel
Introduction to dashboarding

What is business intelligence?
What is a dashboard?
Why build a dashboard?
What are the best attributes of a dashboard?
What is a key performance indicator (KPI)?
What are the steps to build a dashboard?
Why choose Excel for your dashboard?

Pivot tables

How to build an efficient pivot table?
How to benefit form the inner functionalities of a pivot table?
How to optimize the calculations within a pivot table?
How to optimize the presentation of a pivot table?

Charts

How to pick the right chart to share the right message?
How to deal with the chart data series?
How to optimize the presentation of a chart?
How to build dynamic charts?
This training course offers approximately 6 hours of content.
This training course is offered in English.
The targeted learners are the professionals who are already using Excel in their day-to-day work activities and who need to analyze and report data with regular reports and/or dashboards.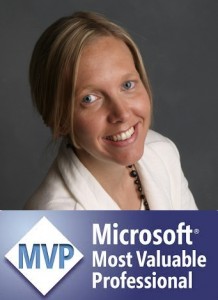 Sophie Marchand, M.Sc., CPA, CGA, MVP, holds a M.Sc. in corporate finance and the accounting accreditation CPA, CGA. Moreover, she is the sole Excel MVP in the Province of Québec and one of the two Data Platform MVP in Québec. She received the MVP designation from Microsoft. MVP stands for « Most Valuable Professional ». She has many years of experience as a corporate finance professional and she specializes in financial modeling and in business intelligence. She acts as a consultant, a trainer as well as a speaker.
Each learner must have access to a portable computer equipped with MS Excel 2007 or more for Windows, or MS Excel 2011 or more for Mac.
Course registration includes PowerPoint presentations, Excel files with examples and exercises and reference to a web site (in French) where many additional resources are available as well as a public forum (in French).
At the end of the training course, the learner will get a certificate of completion. This certificate will include the accreditation number of the trainer from Emploi-Québec, the name of the learner, the name of the training course, the date, the number of continuous training hours as well as the name and signature of the trainer. This certificate meets the standards for continuous training requirements of Québec-based professional orders.
In-class sessions
No refund if cancelled within 2 weeks or less before the training session date. Otherwise, credit will be issued.
In-house sessions
Once arrangements are made and the booking is confirmed, 25% of the training cost will be claimed for any cancellation.